The purpose of the California Native Garden Foundation (CNGF) is to collaborate with stakeholders to build a network of carbon-neutral urban land use models that will demonstrate to others that local solutions can solve the four most critical issues of our time: The Global Climate Emergency, the Ecological Crisis, the Soil Crisis, and Nature Deficit Disorder among youth. Our goals are to teach all citizens of the world the skills to create regenerative urban food systems, protect ecosystems services, build healthy soils, and sequester carbon.
Read our Vision, Mission and Strategy here.
Primary Initiatives
A new vision for urban land use
01
Lab for Nature-Based Urban Living
The Lab for Nature-Based Urban Living is a model for future land use and is a vision for the current gardens at 76 Race Street in midtown San Jose, where CNGF currently operates.
Read more
Our initiative plans to build 25 intentional communities centered around Regenerative Organic Agriculture (ROA) farms throughout the Silicon Valley by 2025.
Read more
Educational Initiatives
Providing youth with skills
to build a resilient economy
03
Ecological Certification Program
In partnership with San Jose Evergreen Community College District Workforce Institute, CNGF is developing seven resilient, ecologically-focused job tracks to equip rising professionals with the tools to solve the climate crisis.
Read more
04
ELSEE - An Educational Model
ELSEE – Environmental Laboratory for Sustainability and Ecological Education – has two key components: 1) an educational garden and living laboratory; and 2) a set of curriculum to reconnect youth with nature.
Read more
05
Mentoring College Interns
Serving students from local colleges and universities, as well as national and international
Read more
plus Food/Playing with Intent Curriculum (ELSEE):
Lessons are focused on relationships between native plants and animals.
Read more
Outdoor STEAM Education Training Certification
Science & Technology, interpreted through Engineering & the Arts, all based in Mathematical elements
Read more
How it all fits together...
?
Our partners help fund our programs, contribute land for sites, bring technical skillsets and, eventually, employ the graduates of our programs. We work together to build ROA farms and ELSEE teaching gardens, which are at the center of our communities. Here, we learn to grow food to share with local citizens. In this way, we can build food security and food sovereignty for our communities, while restoring local ecology, and training youth to acquire skills for a zero carbon future.
Our interns work to design, build, and maintain the ROA farms and ELSEE teaching gardens. These sites will also serve as training grounds for the students with our SJECCD certification programs. The graduates of these programs can also help to maintain these sites, and can help to perpetuate a new model of land use throughout our region.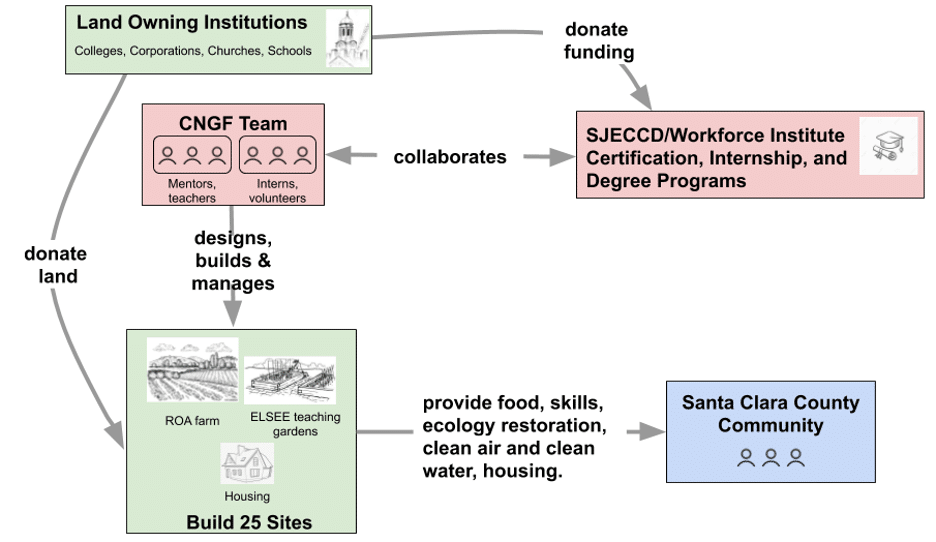 If you are interested in having a native garden designed and built by our nonprofit—which would help our programs and initiatives—please fill out our design consultation form.
Design Consultation Form
See Our Portfolio